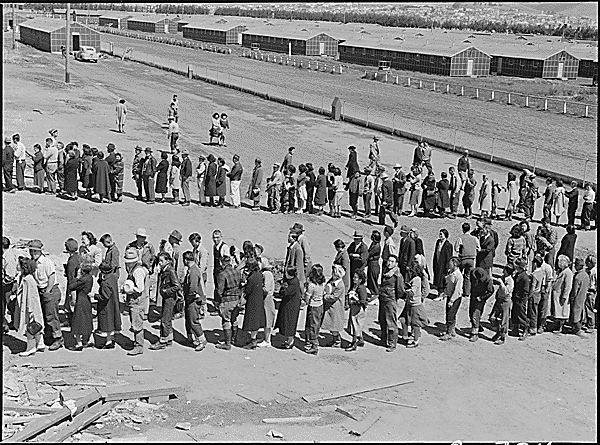 Imprisoned by Our Own Country
Journey to Topaz author Yoshiko Uchida's reflections on the legacy of Executive Order 9066.
Eighty years ago—on February 19, 1942—then-president Franklin D. Roosevelt issued Executive Order 9066, authorizing the dispossession and wartime incarceration of tens of thousands of Japanese Americans. Among them was a twenty-one-year-old UC Berkeley student named Yoshiko Uchida. Today, Uchida (1921–1992) is remembered as a writer of "graceful and lively books" whose works plumb issues of ethnic identity and what it means to be a citizen—provocations informed inevitably in part by the three years she and her family spent in unconstitutional, state-sanctioned detention in the United States.
Her young adult novel, Journey to Topaz, which tells the story of the Sakane family, closely follows the events of her own life. Yuki Sakane, the young protagonist of Uchida's novel, witnesses the disappearance of her father at the hands of the FBI, the dislocation of her family to the Tanforan Assembly Center and later the Topaz War Relocation Center, and the resilience of community in the face of it all—just as Uchida experienced.
Reissued this year in a 50th Anniversary Edition with a new Foreword from New York Times best-selling author Traci Chee, Journey to Topaz opens a window into the experiences of those who lived through incarceration during World War II and meditates on the capacities of the human spirit to overcome depredation and injustice. This edition includes a moving prologue written by Uchida in 1984 meditating on this chapter in history and the long arc toward restitution. To reflect on the 80th anniversary of Executive Order 9066, we offer an excerpt of her remarks below:
---
It has been many years since I first wrote Journey to Topaz and more than forty years since the United States government uprooted 120,000 West Coast Japanese Americans, without trial or hearing, and imprisoned them behind barbed wire. Two-thirds of those Japanese Americans were American citizens, and I was one of them. We were imprisoned by our own country during World War II, not because of anything we had done, but simply because we looked like the enemy.
Today, we know, in spite of the government claim at the time, that there was no military necessity for this action. Today we know this gross violation of our Constitution caused one of the most shameful episodes in our country's history. Our leaders betrayed not only the Japanese Americans, but all Americans, for by denying the Constitution, they damaged the very essence of our democratic beliefs.
In 1976 President Gerald R. Ford stated, "Not only was that evacuation wrong, but Japanese Americans were and are loyal Americans … we have learned from the tragedy of that long-ago experience forever to treasure liberty and justice for each individual American." In 1983 a Commission of Wartime Relocation and Internment of Civilians established by the United States Congress concluded that a grave injustice was done to Japanese Americans and that the causes of the uprooting were race prejudice, war hysteria and a failure of leadership.
Journey to Topaz is the story of what happened to one Japanese American family during this wartime tragedy, then called "the evacuation." Although the characters are fictional, the events are based on actual fact, and most of what happened to the Sakane family also happened to my own.
I would ask readers to remember that my characters portray the Japanese Americans of 1942 and to recall that the world then was totally different from the one we know today. In 1942 the voice of Martin Luther King had not yet been heard and ethnic pride was yet unborn. There was no awareness in the land of civil rights, and there had yet been no freedom marches or demonstrations of protest. Most Americans, supporting their country in a war they considered just, did nothing to protest our forced removal, and might well have considered it treasonous had we tried to resist or protest.
Told to demonstrate our loyalty by doing as our country asked, we had no choice but to trust our government leaders. We did not know then, as we do now, that they had acceded to political and economic pressure groups and imprisoned us with full knowledge that their action was not only unconstitutional, but totally unnecessary.
I hope by reading this book young people everywhere will realize what once took place in this country and will determine never to permit such a travesty of justice to occur again.
Yoshiko Uchida
Berkeley, California
January 1984
The past is never just the past. Although the events of Journey to Topaz may seem distant, these stories remain urgent and immediate, for they hold up a mirror to our present. Bearing witness to the eviction and incarceration of Yuki Sakane and her family reminds us that there is a history here that needs to be acknowledged, a pattern that needs to be addressed. It reminds us that there are injustices that need undoing now.


—Traci Chee, from the Foreword to the 50th Anniversary Edition