When Mountain Lions Are Neighbors: People and Wildlife Working It Out in California [With a New Preface]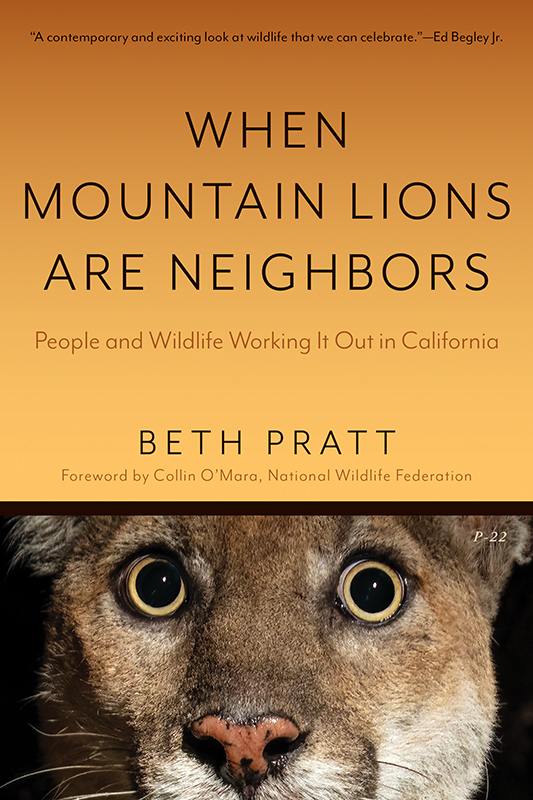 Paperback, 6 x 9, 248 pages
ISBN: 9781597146388.
By
Now updated with a new preface: a full-color celebration of coexistence with California's iconic wildlife.
Wildness beats in the heart of California's urban areas, and across the state Californians are taking action to recast wildlife as an integral part of our everyday lives. In Los Angeles, residents rallied to build one of the largest wildlife crossings in the world because of the plight of one lonely mountain lion named P-22. Porpoises cavort in San Francisco Bay again because of a grassroots effort to clean up a waterway that was once a toxic mess. Yosemite's park staff and millions of visitors have mobilized to keep its famed bears wild. And after a near century-long absence, Californians are welcoming wolves back to the state, inspired by the remarkable journey of the wolf OR-7. When Mountain Lions Are Neighbors explores this evolving dynamic between humans and animals. Now updated with a new preface, these inspiring stories celebrate a new model for wildlife conservation: coexistence.
Reviews
"Interweaves hope and examples of ongoing, broad solution approaches … by focusing on the importance of relationship/education, connectivity, and finally citizen science on the parts of people just like us gardeners, nature lovers, thinkers." Jennifer Jewell, Cultivating Place
"Filled with unforgettable stories that will spark the desire to help, this is the wildlife book that everyone needs to read. Bravo!" Amy Lignor, Feathered Quill Book Reviews
"This delightful book details our ever-evolving relationship with Earth's wildest creatures, promising that peaceful coexistence is possible." Jennifer Holland, author of the best-selling Unlikely Friendships series
"Here is a book full of essential wisdom." Lyanda Lynn Haupt, author of The Urban Bestiary: Encountering the Everyday Wild
"When Mountain Lions Are Neighbors focuses on a serious problem by presenting meaningful solutions, and is as enjoyable to read as it is informative." Foreword Reviews
"A contemporary and exciting view of conservation that we all can celebrate." Ed Begley Jr.
+ Show all reviews
Disclosure of Material Connection: Some of the links in the page above are "affiliate links." This means if you click on the link and purchase the item, I will receive an affiliate commission. I am disclosing this in accordance with the Federal Trade Commission's
16 CFR, Part 255
: "Guides Concerning the Use of Endorsements and Testimonials in Advertising."