What Kind of Bird Can't Fly: A Memoir of Resilience and Resurrection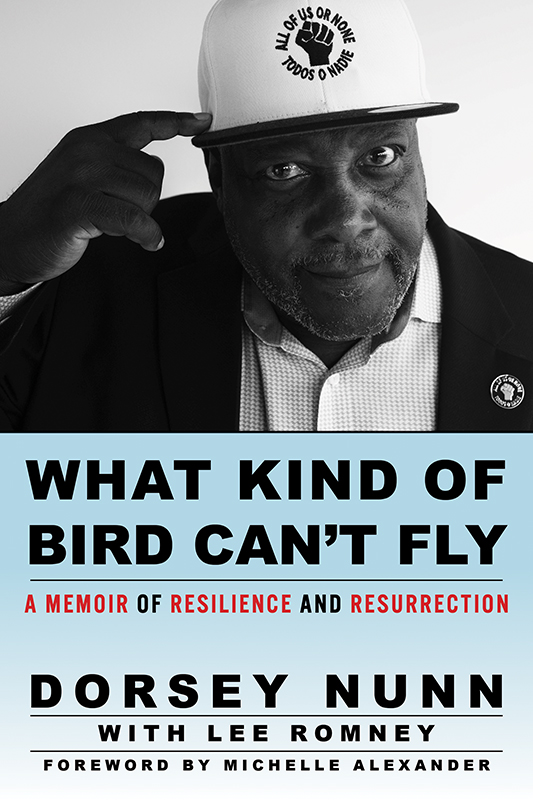 Paperback, 5.5. x 8.5, 368 pages
ISBN: 9781597146326.
By
,
A decade behind bars spurs fifty powerful years of political and legal battles for freedom and human rights.
When Dorsey Nunn shuffled, shackled like a slave, into the California State carceral system at age nineteen, he could barely read. While caged he received an education he never could have anticipated. His first lesson: Prison had a color scheme, and it didn't match the larger society. On the inside, guards stoked racial warfare among prisoners while on the outside the machinery of the criminal legal system increasingly targeted poor Black and Brown communities with offenses, real or contrived. Nunn emerged from San Quentin after ten years behind bars, radicalized by his experience and emboldened by the militant wisdom of the men he met there. He poured his heart and mind into liberating all those he left behind, building a nationwide movement to restore justice to millions of system-impacted Americans.
In this poignant, wry, and powerful memoir, Nunn links the politics of Black Power to the movements for Black lives and dignified reentry today. His story underscores the power of coalition building, persistence in the face of backlash, and the importance of centering the voices of experience in the fight for freedom—and proves, once and for all, that jailbirds can fly.
Reviews
"Dorsey Nunn is one of the grand love warriors and freedom fighters of his generation! Don't miss his powerful and poignant story of tragedy and triumph!" Cornel West, philosopher and author of Race Matters and Hope on a Tightrope: Words & Wisdom
"Dorsey Nunn's memoir is well-written, compelling, moving and honest. It is a movement history suffused with equal parts unconditional love and well-placed 'motherfuckers'. It is a story about Dorsey, but because Dorsey knows more deeply than most that nothing good we do is done alone, it is also an ode to so many others who have walked this path with him all these years. While it is a book about the devastation wrought by one of the most death-making institutions in our nation, it has far more heroes in it than villains, and far more hope than despair. In the end, Dorsey has written a love story that includes all of us who have been here and all of us still to come." Danielle Sered, founder and director of Common Justice, author of Until We Reckon: Violence, Mass Incarceration, and a Road to Repair
"Raw, riveting, and revealing sums up What Kind of Bird Can't Fly. It is a front row seat to the author's transformational journey through pain, anger, and hopelessness to emerge with an iron clad resolve to love and advocate for those who society considers the least. While his approach may seem raw, brutal, or even vulgar, Dorsey cajoles the reader, as he does those who come in contact with him, to understand the birthing environment that leads a person towards incarceration, and to take a deeper look at our carceral system while recognizing the humanity of those trapped in its vicious grips. After reading this book I have a deeper understanding of what made Dorsey the man that he is today, and I have greater hope that those of us who have experienced the trauma of this world can become the healer of our ills." Desmond Meade, Executive Director of the Florida Rights Restoration Coalition
"So much of what I've come to know and understand over the years about the second-class status imposed upon people labeled 'criminals' or 'felons' I've learned from Dorsey and the people who comprise All of Us or None, an organization he cofounded. Although I have fancy degrees and Dorsey does not, there's never been a time in our friendship in which he hasn't been schooling me—not so much in theory, but in practice." From the foreword by Michelle Alexander
+ Show all reviews
Disclosure of Material Connection: Some of the links in the page above are "affiliate links." This means if you click on the link and purchase the item, I will receive an affiliate commission. I am disclosing this in accordance with the Federal Trade Commission's
16 CFR, Part 255
: "Guides Concerning the Use of Endorsements and Testimonials in Advertising."