The Questions That Matter Most: Reading, Writing, and the Exercise of Freedom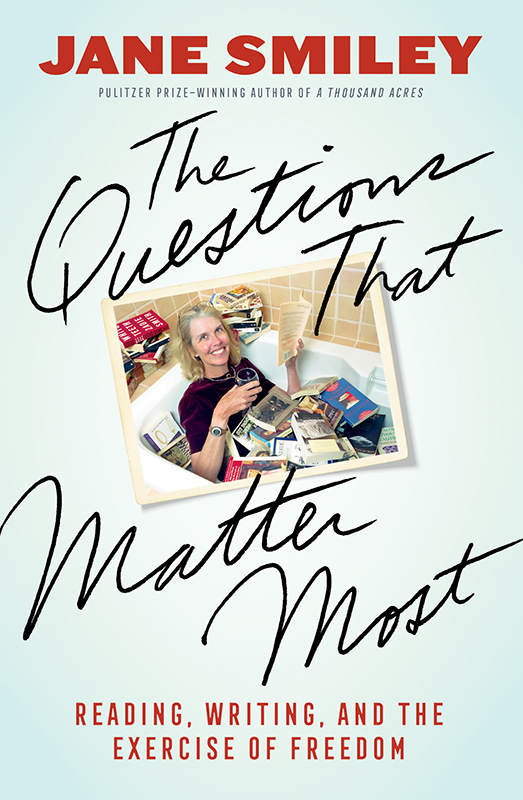 Hardcover, 5.5 x 8.5, 256 pages.
ISBN: 9781597146050.
By
Jane Smiley has long been acclaimed as one of America's preeminent novelists. Less known is her nonfiction, her steady and penetrating essays on some of the aesthetic and cultural issues that mark any serious engagement with reading and writing. Her approach is both enthusiastic and meticulous, always quick to dive beneath surface-level interpretations of authors and their work. This volume of nonfiction begins with a personal introduction that traces Smiley's migration from Iowa to California a quarter-century ago. She soon found herself grappling with the rich and varied literature of a state whose writers were engaging with a contested history of race, class, identity, and sex. As she considers the ambiguity of character and the weight of history, her essays provide new entry points into literature, and we lucky readers can see how Smiley draws inspiration from across literary history to invigorate her own writing. Among the authors she examines are Marguerite de Navarre, Charles Dickens, Anthony Trollope, Harriet Beecher Stowe, Louisa May Alcott, Mark Twain, Willa Cather, Franz Kafka, Halldor Laxness, and Jessica Mitford. Throughout, Smiley seeks to think harder and, in her words, with "more clarity and nuance" about the questions that matter most.
Reviews
"It's hard to overstate the pleasure of reading Jane Smiley — especially, for me, her essays. [...] The Questions that Matter Most offers a case in point. Line for line, Smiley delivers such clear, vibrant, precise prose — handed forth as calmly and equitably as an ice cream cone, even when she's incensed — that a reader feels smarter just taking it in. [...] This quality of keen, cool analysis suffuses every piece." Joan Frank, Boston Globe
"In this slim yet valuable book, Smiley gives educators, readers, and writers much to discuss. Highly recommended." Library Journal, starred review
"[The Questions That Matter Most] gathers essays (and two stories) composed with wit, enthusiasm, expertise, and candor [...] Smiley's agile, seemingly blithe inquiries are wryly incisive, ethically rigorous, and propelled by her profound passion for literature as an endless source of illumination and liberation." Donna Seaman, Booklist
"In this sharp compendium, Pulitzer Prize winner Smiley bring together her literary criticism, which brims with the same keen observations, inquisitiveness, and humor as her novels. […] Fleet-footed and smart, this delights." Publishers Weekly
"Pulitzer Prize winner Smiley dives into the landscapes where much of her work is set—and the writing of authors who have redefined the novel. Smiley's voraciousness as a reader drives the book, which is peppered with insights into Charles Dickens, Harriet Beecher Stowe, Louisa May Alcott, Willa Cather, Franz Kafka, and others." Alta Journal
"The prescient questions Smiley addresses are angled at California and American literary history through the work of a cohort of seminal writers [...] The ambiguity of the Golden State in terms of freedom, autonomy, race, class, identity, sex and other topics is filtered through Smiley's perspectives as a resident of California and paired with the work of these classic writers whose work informs her own." Lou Fancher, East Bay Express
"Jane Smiley is an accomplished novelist and a dedicated student of the form. Her latest book, The Questions That Matter Most, assembles pieces on a range of topics: motherhood, childhood and, naturally, novels." Mark Athitakis, The Washington Post
"The Questions That Matter Most is a slim but rangy volume featuring 18 accessible B sides that twine details of place and musings on novels—both writing and reading them. [...] Years ago, she wrote that 'to write novels is to broadcast the various stages of your foolishness.' As the essays here remind us, that's too humble by half." Anita Felicelli, Alta Journal
"Author Jane Smiley is a literary powerhouse [...] the master of the family psyche, the community psyche, and human relationship analysis." Monterey County Weekly
"Jane Smiley is a force of nature. Her new book, The Questions That Matter Most, marks her first literary nonfiction collection in nearly 20 years." Nob Hill Gazette
+ Show all reviews
Disclosure of Material Connection: Some of the links in the page above are "affiliate links." This means if you click on the link and purchase the item, I will receive an affiliate commission. I am disclosing this in accordance with the Federal Trade Commission's
16 CFR, Part 255
: "Guides Concerning the Use of Endorsements and Testimonials in Advertising."