Deep Oakland: How Geology Shaped a City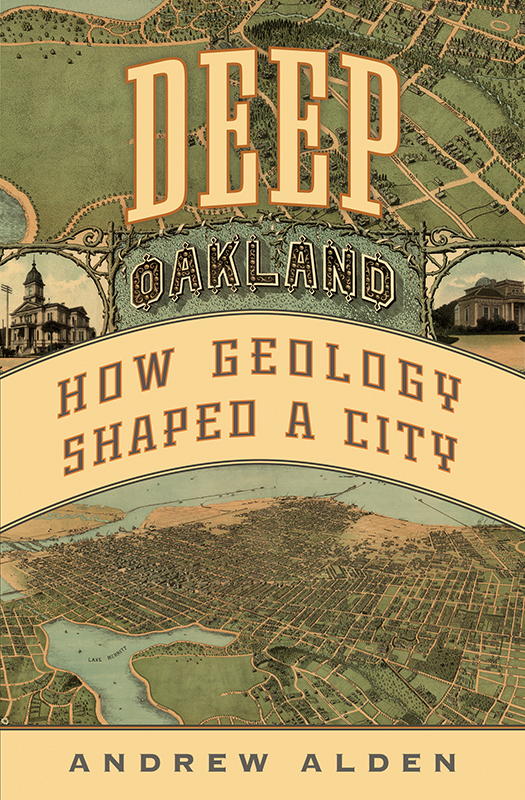 Paper over board, 5.25 x 8, with 12 maps, 256 pages.
ISBN: 9781597145961.
By
Beneath Oakland's streets and underfoot of every scurrying creature atop them, rocks roil, shift, crash, and collide in an ever-churning seismological saga. Playing out since time immemorial, the deep geology of this city has chiseled and carved its landforms and the lives of everyone—from the Ohlone to the settlers to the transients and transplants—who has called this singular place home.
In Deep Oakland, geologist Andrew Alden excavates the ancient story of Oakland's geologic underbelly and reveals how its silt, soil, and subterranean sinews are intimately entwined with its human history—and future. Poised atop a world-famous fault line now slumbering, Alden charts how these quaking rocks gave rise to the hills and the flats; how ice-age sand dunes gave root to the city's eponymous oak forests; how the Jurassic volcanoes of Leona Heights gave way to mining boom times; how Lake Merritt has swelled and disappeared a dozen times over the course of its million-year lifespan; and how each epochal shift has created the terrain cradling Oaklanders today. With Alden as our guide—and with illustrations by Laura Cunningham—we see that just as Oakland is a human crossroads, a convergence of cultures from the world over, so too is the bedrock below, carried here from parts still incompletely known.
Disclosure of Material Connection: Some of the links in the page above are "affiliate links." This means if you click on the link and purchase the item, I will receive an affiliate commission. I am disclosing this in accordance with the Federal Trade Commission's
16 CFR, Part 255
: "Guides Concerning the Use of Endorsements and Testimonials in Advertising."