Deep Hanging Out: Wanderings and Wonderment in Native California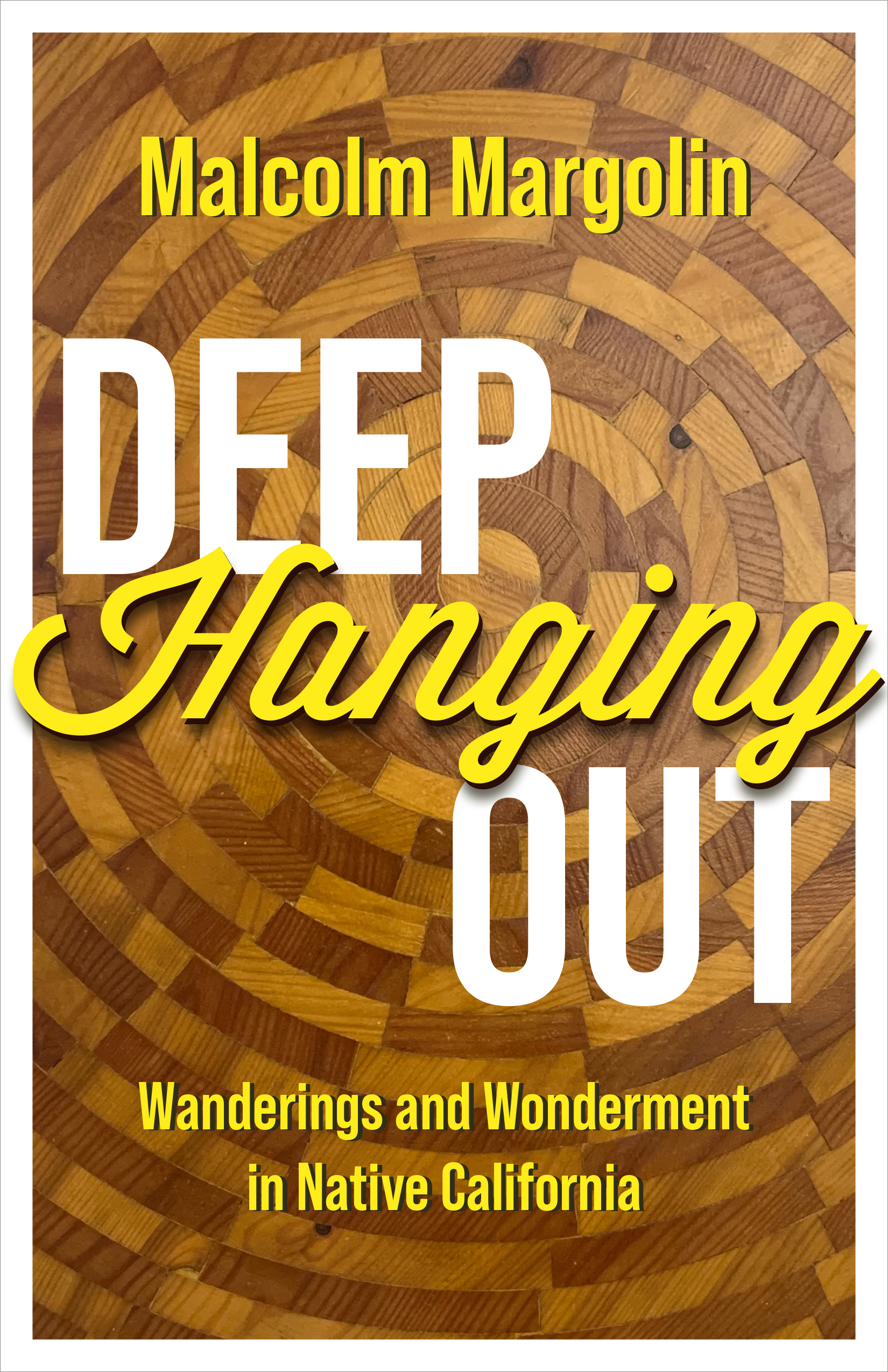 Hardcover, 280 pages.
ISBN: 9781597145350.
By
Writer and publisher Malcolm Margolin has been "deep hanging out"–or immersing himself in a social, informal way–in California's Indian country since the 1970s. This volume collects thirty articles, introductions, and other pieces he wrote about California's diverse Indian country (well over one hundred tribes), drawn mainly from the quarterly magazine he cofounded in 1987, News from Native California. He shares with his readers the experiences, knowledge, and cultural renewal that California Indians have generously shared with him, often after years of friendship, from the erection of a ceremonial enclosure in Northern California–built to fall apart within a generation so that the knowledge of how to construct one is always current–to a visit by aboriginal Hawaiians in diplomatic recognition of native Southern Californian tribes. He draws on both archives and interviews with elders in longer reports about leadership traditions, pedagogical techniques, and conservation practices in various parts of the state–fascinating glimpses into worldviews very different from those of contemporary America. Filled with insight and affection, as well as some of the most gorgeous writing, Deep Hanging Out will appeal both to newcomers and to those whose roots and hearts reside in the state's Indian country.
Reviews
"Malcolm Margolin is an American treasure. His publications and community service have uplifted the citizens of California, especially the cultural contributions of the Indigenous peoples of California." Joy Harjo (Mvskoke), United States poet laureate, author of An American Sunrise
"Malcolm Margolin is a man of engagement who dares to go deep. He is fearless and joyous at once. In this treasure of a book, part memoir, part social history, and part radical philosophy, Malcolm offers us a glimpse into the power of sustaining communities through direct action and love. Deep Hanging Out is a vibrant testament to one man's commitment to nurturing community and dancing with change." Terry Tempest Williams, writer in residence at Harvard Divinity School, author of Erosion
"In these wondrous stories, Malcolm Margolin makes known to the wider world the incredible and unique ways of California's Native people. With sensitivity and verve, he shares his deep knowledge and lifelong observations. Lively and inspiring." Jerry Brown, former governor of California
"Herein is testimony of Malcolm Margolin's legacy, not just as the greatest public advocate of our remarkable survival, but as a part of California Indian history itself." Greg Sarris, chairman of the Federated Indians of Graton Rancheria, author of How a Mountain Was Made
"Armed with his legendary rolodex and even more legendary wit and keen perceptions, Malcolm Margolin has advocated vigorously to not only acknowledge Native Californians, but to provide the most prominent and honorable platform for us to advocate for ourselves and remind the modern world, 'We are still here, and we're not going anywhere.'" Gregg Castro (t'rowt'raahl Salinan/rumsien-ramaytush Ohlone), cultural activist and cofacilitator of the California Indian Conference
"Malcolm Margolin has spent a lifetime connecting us to Indigenous wisdom, knowledge that had been ignored and marginalized for centuries. His patiently assembled firsthand accounts honor the ancestors and are a teaching for the world." Paul Hawken, editor of Drawdown and author of Blessed Unrest
"This book implies the depth and sensitivity we immigrants must achieve if we ever hope to 'inhabit' a vital North America to the seventh generation. It will require centuries and an about-face of priorities to approach the intimacy chronicled in these pages. Every American should read this book, while there's still time." Peter Coyote, author of The Rainman's Third Cure, Zen Buddhist priest
"Not only is Deep Hanging Out a wonderful celebration of the diverse, living Indigenous cultures of California, it's expressed with such easy eloquence that it's a pleasure to read. With modesty and self-effacing humor, Malcolm never places himself at the center of the narrative. Instead, he displays that rarest of attitudes among non-Natives writing about our lives—the ability to listen and truly hear what's being said." Joseph Bruchac, author of Two Roads
"Malcolm's lifelong curiosity, his abundant and sustained generosity, and his gift of deep friendship as revealed in this compendium—a memory palace of sorts—are invaluable." Gretel Ehrlich, author of Facing the Wave and Unsolaced
"This collection covering decades of Malcolm's transcendent writings about the Native California cultures that inspired him provides welcome insight into his capacious mind and generous heart." Elaine Elinson, coauthor of Wherever There's a Fight
"Deep Hanging Out is an opportunity to not just wade, but to take a deep dive into the voracious curiosity of Malcolm Margolin. Malcolm's magic lies in how he connects us to what was and could be again by respectfully learning from, not just about, the Native people of California." Anne Bown-Crawford, executive director of the California Arts Council
"Malcolm Margolin has spent decades in deep, respectful listening to the Indigenous occupants of California. He gives us a vital window into a special, largely forgotten world that can teach us wonders, if we will only take the time to listen." Bruce Hamilton, national policy director of the Sierra Club
"This glorious collection of essays invites us to jump into Malcolm's old Volvo and travel alongside him for a deeply insightful, beautiful, and intimate exchange with Native California activists, leaders, and culture bearers. Margolin's gift offers an enduring and engaging record of the powerful forces of cultural renewal alive in Native California today—forces that inspire respect, cultivate appreciation, and stir emotion." Amy V. Kitchener, executive director and cofounder of the Alliance for California Traditional Arts
"This milestone monograph sheds light on one of the least understood and most fascinating corners of the Native American world." Daniel Sheehy, director and curator of Smithsonian Folkways Recordings
"Malcolm has always worked diligently to ensure that our Native worldview, culture, and traditions are presented through our own voice. This book is an extension of his commitment to our people with the utmost integrity and respect." Susan Masten, former chair of the Yurok Tribe
"Malcolm Margolin brings to life the beauty, wisdom, compassion, and diversity of California's first people with wit, sensitivity, and style. This book should be required reading for any Californian interested in learning about our Indigenous people and their ongoing efforts to revitalize their languages, material culture and crafts, ceremonies, culinary arts, and lands." Kent G. Lightfoot, professor of anthropology at the University of California, Berkeley
"This compelling, wise, and profoundly moving book is a must read for anyone with an interest in the contemporary peoples of Native California. The fruit of a half-century of intimate involvement, it has much to teach us about living among the First Peoples of this ancient slice of the world." Ira Jacknis, research anthropologist at the Phoebe A. Hearst Museum of Anthropology, University of California, Berkeley
"With elegance, passion, and humanity, Malcolm Margolin takes his readers on a celebratory and profoundly hopeful excursion into the little known, diverse, vibrant, complicated, and deeply humane worlds of Native California past, present, and future." Beverly R. Ortiz, chair of Native California Research Institute
"This book is for California's Indigenous Peoples, and for all the rest of us too. It is from an ally who views the beauty and wonder of life as an essential element in fixing the world." Janeen Antoine (Sicangu Lakota), executive director of American Indian Contemporary Arts
"With his elfin nature and wry humor, Malcolm Margolin has modeled the most pure-hearted and humble allyship. Now he offers readers this deeply human, accessible, and wide-ranging storytelling, sharing what he has learned in order to benefit Mother Earth and all people who are Indigenous to her mysterious and complex interrelated systems." Nina Simons, cofounder and chief relationship strategist of Bioneers
"Malcolm Margolin is not only a California hero, he is a national treasure; in this personal anthology-memoir he has brought us even closer to the still-beating heart of our foundational and astonishingly surviving Native California world." Peter Nabokov, author of Where the Lightning Strikes, editor of Native American Testimony
"Malcolm recognizes that simply recording stories is not enough, it's in the telling. His work, personality, energy, uniqueness, creativity, and interactions with California Native people seem to have emerged from a place deep within his spirit and soul." Annette L. Reed (Tolowa Dee-ni'), professor in Native American studies and ethnic studies at California State University, Sacramento
"Throughout his book, Malcolm provides a glimpse into the California Indian world without the burden of top-down anthropological jargon or theorizing. It is a beautiful collection of stories about a journey of friendships that span decades. Malcolm embodies in print and in practice what it means to be an ally, an accomplice, and—most importantly—a friend." Peter Nelson (Coast Miwok and tribal citizen of the Federated Indians of Graton Rancheria), assistant professor of ethnic studies and environmental science, policy, and management at the University of California, Berkeley
"For every piece of insight or knowledge he has gleaned from our cultures, Malcolm gives back in savvy, tangible, imaginative support that empowers our cultures and our lives. It was a lucky day for us when this Boston Jew wandered into our homelands and hung out so deeply he's never left." Deborah A. Miranda ((Ohlone-Costanoan Esselen Nation), author of Bad Indians
"Malcolm has always been on the cutting edge of Native America, especially here in California. His work is his legacy; it will be a legacy unsurpassed but an inspiration to the countless others who will attempt to follow in his footsteps." Hon. Ron W. Goode, tribal chairman of the North Fork Mono Tribe
+ Show all reviews
Disclosure of Material Connection: Some of the links in the page above are "affiliate links." This means if you click on the link and purchase the item, I will receive an affiliate commission. I am disclosing this in accordance with the Federal Trade Commission's
16 CFR, Part 255
: "Guides Concerning the Use of Endorsements and Testimonials in Advertising."