California Snakes and How to Find Them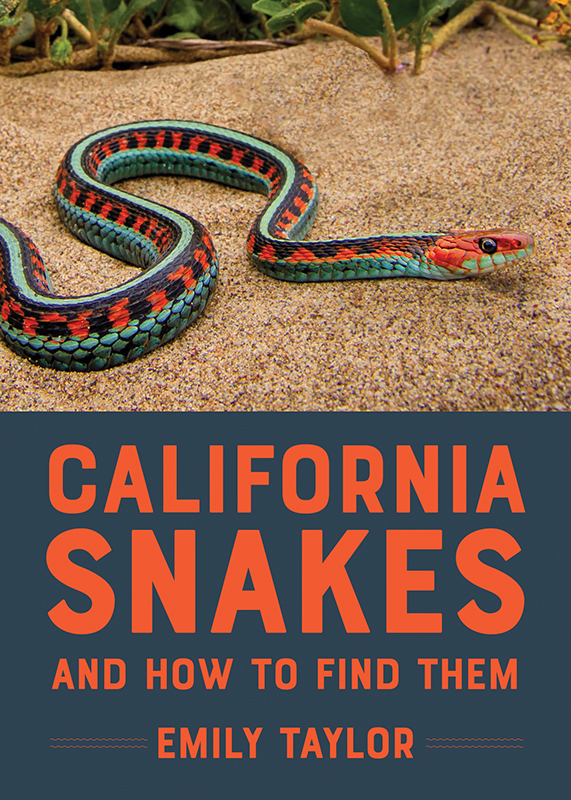 Paperback, 5 x 7, 208 pages
ISBN: 9781597146340.
By
A herpetologist introduces budding snake enthusiasts to the wonders of California snakes.
Fear of snakes is one of the most common phobias in the world, yet step into any local zoo and you'll find the snake pit to be among these menageries' greatest attractions. In this entrancing ode to the charms of California's legless reptiles, rattlesnake wrangler Emily Taylor shares her knowledge, enthusiasm, and advice for getting to know our slithering neighbors, dispelling the usual misapprehensions that surround them and celebrating their striking biological traits along the way.
Featuring profiles of the nearly 50 fork-tongued species that burrow and coil in California's diverse habitats, and containing tips for serpent seekers—including identification guides and handling advice—California Snakes and How to Find Them delves into the longstanding myths and latest natural history research on our ophidian friends of the West. Taylor showcases the biodiversity of California's snakes, from the Common Garter to the fetchingly pink Rosy Boa to the elusive Alameda Striped Racer, illustrated with more than 100 detailed photographs. Supported with critical insights—such as what to do during a venomous encounter, and an exploration of the seemingly simple question, What is a snake?—this guide is the perfect companion for both the seasoned naturalist and the budding snake enthusiast.
Disclosure of Material Connection: Some of the links in the page above are "affiliate links." This means if you click on the link and purchase the item, I will receive an affiliate commission. I am disclosing this in accordance with the Federal Trade Commission's
16 CFR, Part 255
: "Guides Concerning the Use of Endorsements and Testimonials in Advertising."