California Against the Sea: Visions for Our Vanishing Coastline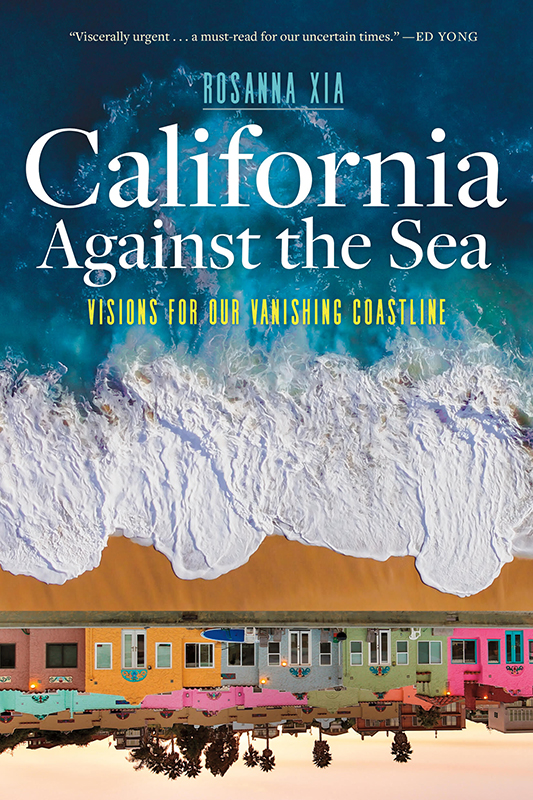 By
Along California's 1,200-mile coastline, the overheated Pacific Ocean is rising and pressing in, imperiling both wildlife and the maritime towns and cities that 27 million people call home. In California Against the Sea, Los Angeles Times coastal reporter Rosanna Xia asks: As climate chaos threatens the places we love so fiercely, will we finally grasp our collective capacity for change?
Xia, a Pulitzer Prize finalist, investigates the impacts of engineered landscapes, the market pressures of development, and the ecological activism and political scrimmages that have carved our contemporary coastline—and foretell even greater changes to our shores. From the beaches of the Mexican border up to the sheer-cliffed North Coast, the voices of Indigenous leaders, community activists, small-town mayors, urban engineers, and tenacious environmental scientists commingle. Together, they chronicle the challenges and urgency of forging a climate-wise future. Xia's investigation takes us to Imperial Beach, Los Angeles, Pacifica, Marin City, San Francisco, and beyond, weighing the rivaling arguments, agreements, compromises, and visions governing the State of California's commitment to a coast for all. Through graceful reportage, she charts how the decisions we make today will determine where we go tomorrow: headlong into natural disaster, or toward an equitable refashioning of coastal stewardship.
Reviews
"What happens if, as the world warms and the Pacific Ocean rises, California's coast and beaches drown? That's the crisis that Los Angeles Times environmental reporter Rosanna Xia investigates in her thoughtful, balanced, deeply researched and reported California Against the Sea." Peter Fish, San Francisco Chronicle
"Los Angeles Times reporter Xia debuts with a vivid exploration of how communities along the California coast are dealing with rising sea levels. [...] It's an unsparing look at California's contentious battle to cope with a changing climate." Publishers Weekly
"Few people are more qualified to explain and analyze this landscape. Xia's reporting on this topic earned her a spot as a finalist for a Pulitzer Prize for Explanatory Reporting in 2020. In this, her first nonfiction book, she breathes exquisite detail and dialogue into a rich narrative held up by years of beat reporting." Clare Fieseler, Science Magazine
"A beautifully written, highly relevant book about not just our relationship with and how we think about the natural world, but also how we relate to each other." Jaime Herndon, Book Riot
"Just as the coast defines the liminal world between land and sea, so too does Rosanna Xia's remarkable book exist in the overlap between development and erosion, between geological forces and human desire, between our ambitious past and our tenuous future. It's viscerally urgent, thoroughly reported, and compellingly written—a must-read for our uncertain times." Ed Yong, author of An Immense World
"This book should be required reading for Californians—and all Americans. The fate of one state's rising coastline, and what it portends for our future, will affect us all. Exquisite and wrenching, Rosanna Xia has written an essential book that shows us what we stand to lose." Lizzie Johnson, author of Paradise: One Town's Struggle to Survive an American Wildfire
"Fans of Xia's work for the L.A. Times will recognize her virtuosic blend of propulsive boots-on-the-ground storytelling, explanatory reporting, and genuine curiosity and love for place. A profound and timely exploration of humanity's various and shifting relationships to coastlines and the forces that shape them by one of the great environmental reporters working today." Lisa Wells, author of Believers: Making a Life at the End of the World
"Xia's prophetic and perceptive book reveals a California coastline denied by centuries of settlers more intent on dreaming than facing the unsteady reality of the living ocean's edge. California Against the Sea is the invitation we need today to enter a future where we learn to work with nature instead of against it. Xia's message should be heeded everywhere ocean meets land." Meera Subramanian, author of A River Runs Again: India's Natural World in Crisis, from the Barren Cliffs of Rajasthan to the Farmlands of Karnataka
"In the midst of the climate crisis, can the people of California treat the rising Pacific Ocean as something other than an adversary? In California Against the Sea, Rosanna Xia argues persuasively that such a transformation is not only possible but already underway, inspired by lessons from deep history and the recent past. Rigorously reported and beautifully written, this book is a crucial guide to the future." Michelle Nijhuis, author of Beloved Beasts: Fighting for Life in an Age of Extinction
"Xia's California Against the Sea deftly charts the past, present and future of California's changing coastlines in order to retrieve hope for more sustainable futures from headlines of environmental loss. This lucid account shows that sea level rise is less an intractable problem than an urgent invitation to rethink our relationships with oceans and with one another. A beautiful, revelatory and prescient book." Lucas Bessire, author of Running Out: In Search of Water on the High Plains
​​"Rosanna Xia's ability to move effortlessly between the journalist's voice, the historian's voice, and even the poet's voice makes her story of our climate precarity more than an account of evidence and circumstance. The book is rife with humanity, nuanced and powerful because of it." Obi Kaufmann, author of The Coasts of California
"In California Against the Sea, Rosanna Xia combines the best of deep dive journalism, by expending shoe leather to get out into the field and walk the coastline and by interviewing frontline community members, politicians and advocates, with explanations of the environmental science and geology to reveal both the impacts of and solutions to sea level rise that is already upending life along California's coastline. Beautifully written." Christina Gerhardt, author of Sea Change: An Atlas of Islands in a Rising Ocean
This is a very important book. [...] Rosanna has written a book which will resonate for decades. I am hoping that one of Governor Newsom's assistants has dropped a copy on his desk." Jeff Battis, Sausalito Books by the Bay
+ Show all reviews
Disclosure of Material Connection: Some of the links in the page above are "affiliate links." This means if you click on the link and purchase the item, I will receive an affiliate commission. I am disclosing this in accordance with the Federal Trade Commission's
16 CFR, Part 255
: "Guides Concerning the Use of Endorsements and Testimonials in Advertising."