Boom Times for the End of the World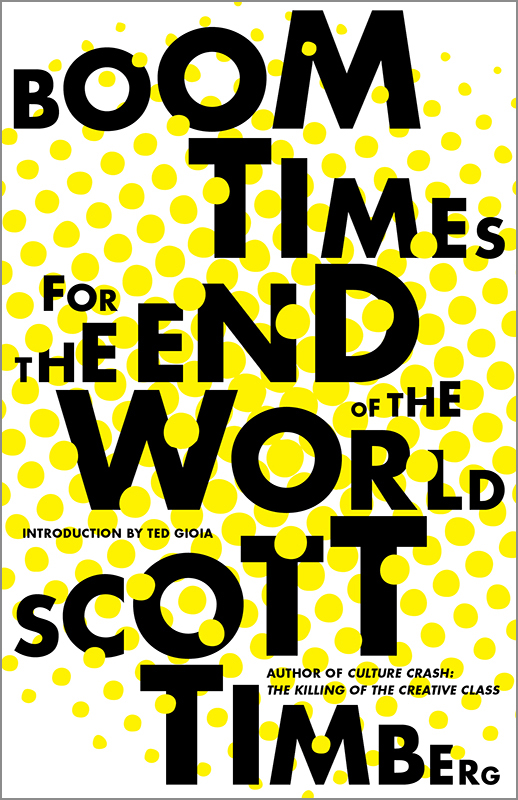 Paperback, 5.5 x 8.5, 304 pages.
ISBN: 9781597145985.
By
The late Scott Timberg championed artists earnestly and relentlessly, with empathy and persistence. He was a vocal and widely admired advocate for working artists, one of the first to sound the alarm on the escalating economic challenges that have faced creative workers in the twenty-first century. The twenty-six reflections in this book form a valuable window onto many cultural shifts that have upended the country's creative traditions and expectations. They are, by turns, surprising, wide-ranging, passionate, and fun. Timberg's perceptive and enthusiastic profiles on the arts extend to West Coast jazz and Gustavo Dudamel's LA Philharmonic, the fiction of Ray Bradbury and John Rechy, the early films of Spike Jonze and Christopher Nolan, the comics of Los Bros Hernandez and Adrian Tomine, and many more musicians, novelists, filmmakers, architects, and impresarios. Timberg had a knack, as Ted Gioia writes in his introduction, for "finding the best in the cultural scene on the dream coast." This is an indispensable volume that showcases the author's endless curiosity, as well as his passion and love for California—especially that confounding and complex metropolis, Los Angeles.
Reviews
"Boom Times' 26 pieces spanning 16 years [...] report on the characters and scenes that made Los Angeles an endless source of fascination for Scott. [...] For Scott, journalism really was the literature of civic life, and what mattered most to him was the conversation between the public and the culture; that conversation was Scott's lifeblood." Joe Donnelly, Los Angeles Review of Books
"Boom Times for the End of the World is Timberg's posthumous collection of essays and reflections from the last two decades, written with verve, curiosity, and refreshing sincerity. [...] At its most vulnerable, Timberg's collection feels like a journal from a society's last days, dispatches from some distant outpost right up until the signal went dead. [...] Timberg's work in Boom Times rarely indulges the despair. His dedication to art's role in society never wavers." Marius Sosnowski, ZYZZYVA
"Scott was a polymath. He could write knowledgeably, and passionately, about a variety of topics: from literature to rock music, from popular culture to film to visual art. For another journalist, that might have been a stretch. For Scott, it was all part of the job. Just look at the pieces in Boom Times." David Ulin, Alta Journal
"To read Scott Timberg's newly published collection of essays, Boom Times for the End of the World, is to experience both a rush of cultural stimulation and an overwhelming sense of sadness. Timberg, who loved Los Angeles and culture journalism with an intense passion, was among the essential chroniclers of the city […] Boom Times is both a celebration of a prodigious talent and a valediction for a lost soul." Chris Vognar, Los Angeles Times
"As much a love letter to California as it is to the artists that Timberg championed, this posthumous collection gathers pieces that are deep and meditative, creating a narrative about the trajectory of culture, at times exciting, often disappointing, and always interesting." Alta Journal
"Timberg proves himself an authority on [Los Angeles] and its enthrallment to 'fantasy, boosterism, and magical thinking.' This is a fitting testament to a skilled cultural critic." Publishers Weekly
+ Show all reviews
Disclosure of Material Connection: Some of the links in the page above are "affiliate links." This means if you click on the link and purchase the item, I will receive an affiliate commission. I am disclosing this in accordance with the Federal Trade Commission's
16 CFR, Part 255
: "Guides Concerning the Use of Endorsements and Testimonials in Advertising."