Bird Songs Don't Lie: Writings from the Rez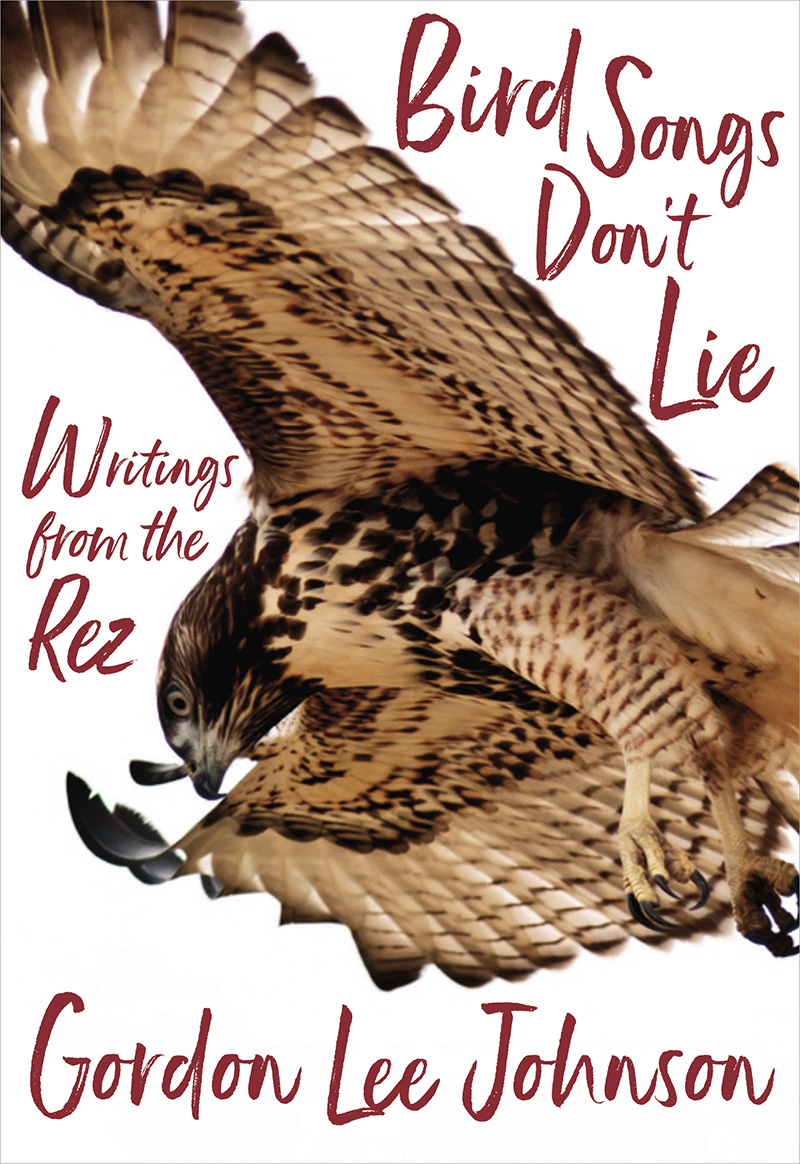 Hardcover, 5.5 x 8, 240 pages.
ISBN: 9781597143974.
By
In this deeply moving collection of short stories and essays, Gordon Lee Johnson (Cupeño/Cahuilla) cements his voice not only as a wry commentator on American Indian reservation life but also as a master of fiction writing. In Johnson's stories, all of which are set on the fictional San Ignacio reservation in Southern California, we meet unforgettable characters like Plato Pena, the Stanford-bound geek who reads Kahlil Gibran during intertribal softball games; hardboiled investigator Roddy Foo; and Etta, whose motto is "early to bed, early to rise, work like hell, and advertise," as they face down circumstances by turns ordinary and devastating. From the noir-tinged mystery of "Unholy Wine" to the gripping intensity of "Tukwut," Johnson effortlessly switches genre, perspective, and tense, vividly evoking people and places that are fictional but profoundly true to life.
The nonfiction featured in Bird Songs Don't Lie is equally revelatory in its exploration of complex connections between past and present. Whether examining his own conflicted feelings toward the missions as a source of both cultural damage and identity or sharing advice for cooking for eight dozen cowboys and -girls, Johnson plumbs the comedy, catastrophe, and beauty of his life on the Pala Reservation to thunderous effect.
Reviews
"Gordon Johnson's voice is like no other, and he continues in this new book to send out missives from his place in the world—the beating-strong heart of southern California's first peoples and the land they've loved for generations. Johnson is by turns tender and hilarious—as ever. This book is a welcome addition to his loving history of the world as he knows it." Susan Straight, author of Highwire Moon and A Million Nightingales
"A delicious communal feast of memory and imagination for California Indians or for anyone who has spent time living among us; on every page, there is a sensory connection to people, places, and events to delight the senses, evoke a smile, and trigger more stories about traditional gatherings, summer softball tournaments, elders who have passed on, or the bone-rattling comfort from hearing bird songs wafting through the summer air all night long." Dr. Theresa Gregor (Iipay Nation of Santa Ysabel), CSU Long Beach
+ Show all reviews
Disclosure of Material Connection: Some of the links in the page above are "affiliate links." This means if you click on the link and purchase the item, I will receive an affiliate commission. I am disclosing this in accordance with the Federal Trade Commission's
16 CFR, Part 255
: "Guides Concerning the Use of Endorsements and Testimonials in Advertising."