BART: The Dramatic History of the Bay Area Rapid Transit System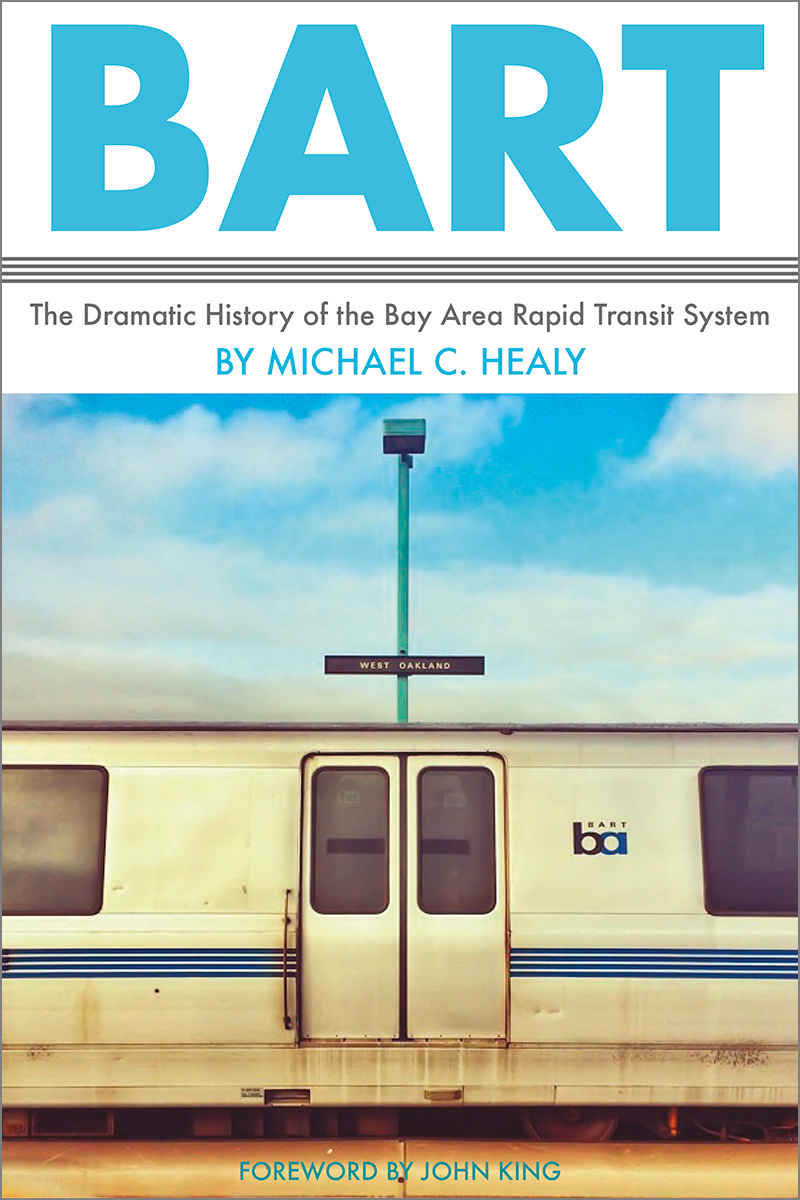 Paperback, 6 x 9, with 50 black-and-white photographs, 368 pages.
ISBN: 9781597143707.
By
,
When BART opened in the San Francisco Bay Area in 1972, it became a catalyst for a renaissance in modern rail transit, both nationally and internationally. The concept as sold to Bay Area voters was gargantuan: by adopting aerospace technologies such as microchips for ground transportation, the new computer-operated rail system would bridge counties and curb urban sprawl amid a booming automobile culture. But it all came within a gnat's eyelash of not happening. The question raised by pundits and taxpayers alike was: would this space-age plan actually work, or be the biggest boondoggle in the country's history?
In the first-ever history book about BART, longtime agency spokesman Michael C. Healy gives an insider's account of the rapid transit system's inception, hard-won approval, construction, and operations, "warts and all." Written with a master storyteller's homey wit and sharp attention to detail, Healy recreates the politically fraught venture to bring a new kind of public transit to the West Coast. What emerges is a sense of the individuals who made (and make) BART happen. From tales of staying up until 3:00 a.m. with Bill Stokes and Jack Everson to hear the election results for the rapid transit vote to weathering scandals, strikes, and growing pains, this look behind the scenes of an iconic, seemingly monolithic structure reveals people at their most human—and determined to change the status quo.
Reviews
"From Emperor Norton's 1872 dream of a transbay tunnel to the BART tube opening one hundred years later, Healy explores the nuanced history of the Bay Area's subway system through the convergent lenses of social, cultural, engineering, and political forces. In this exquisitely researched work, Healy not only brings the dramatic stories of BART's development to light, but shares the fragile web of energies, power, funding, and sheer will that created this monumental system of people-moving." Anthea M. Hartig, executive director of the California Historical Society
"The Metro. The T. The Tube. The world's most famous subway systems are known by simple monikers, and San Francisco's BART belongs in that class. Michael C. Healy delivers a tour-de-force telling of its roots, hard-fought approval, and challenging construction that will delight fans of American urban history." Doug Most, author of The Race Underground: Boston, New York, and the Incredible Rivalry That Built America's First Subway
+ Show all reviews
Disclosure of Material Connection: Some of the links in the page above are "affiliate links." This means if you click on the link and purchase the item, I will receive an affiliate commission. I am disclosing this in accordance with the Federal Trade Commission's
16 CFR, Part 255
: "Guides Concerning the Use of Endorsements and Testimonials in Advertising."