Bad Indians (10th Anniversary Edition): A Tribal Memoir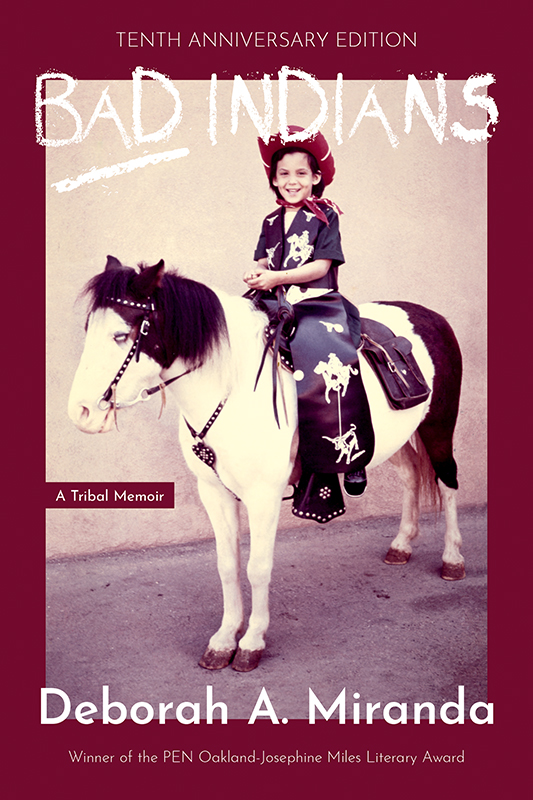 Hardcover, 6 x 9, with black-and-white illustrations, 304 pages.
ISBN: 9781597145862.
By
Bad Indians—part tribal history, part lyric and intimate memoir—is essential reading for anyone seeking to learn about California Indian history, past and present. Widely adopted in classrooms and book clubs throughout the United States, Bad Indians—now reissued in significantly expanded form for its 10th anniversary—plumbs ancestry, survivance, and the cultural memory of Native California.
In this best-selling, now-classic memoir, Deborah A. Miranda tells stories of her Ohlone/Costanoan-Esselen family and the experiences of California Indians more widely through oral histories, newspaper clippings, anthropological recordings, personal reflections, and poems. This anniversary edition—the first time the book has seen release in hardcover format—includes several new poems and essays, as well as an extensive afterword, totaling more than fifty pages of new material. Wise, indignant, and playful all at once, Bad Indians is a beautiful and devastating read, and an indispensable book for anyone seeking a more just telling of American history.
Reviews
"I teach this book to my students in every creative nonfiction class and am excited by it every time. It is a powerful example of how memoir can be what we want it to be. This is a fearless and beautiful book." Sasha taqʷšəblu LaPointe, author of Red Paint: The Ancestral Autobiography of a Coast Salish Punk
"Bad Indians stands out as a classic quintessentially Indigenous memoir. It is a powerful text that demonstrates, through a merging of personal storytelling, history, and gathering of testimony, a meta-story of generational trauma and triumph. It is the best book of its kind and will continue to be an essential text in California, national, and world history." Joy Harjo, 23rd United States poet laureate, author of Poet Warrior and An American Sunrise
"Essential for all of us who were taught in school that the 'Mission Indians' no longer existed in California. [...] Miranda takes us on a journey to locate herself by way of the stories of her ancestors and others who come alive through her writing. It's such a fine book that a few words can't do it justice." Leslie Marmon Silko, author of Ceremony and Storyteller
"Bad Indians is the sacred text and story of California, the book that sits beside me when I write, the book I have given to all of my daughters, the book I give to people I love when they need to know the deeply-sung truths and revelations of this state, of this world. Deborah Miranda writes of hundreds of years of children, parents, love and despair and love again, here in a land beloved and stolen and cherished. With tenderness and fiercely lyrical beauty, she takes apart myth and resurrects the branches of her own trees, as no one else ever could." Susan Straight, author of Mecca and In the Country of Women
"A searing indictment of the ravages of the past and a hopeful look at the courage to confront and overcome them." Kirkus Reviews
"In Bad Indians: A Tribal Memoir, we learn about the Indigenous people of California from the 16th century to the present. What was and is day-to-day life for them? How much has been erased from our history books? How do we begin to dispel the myth that Native Americans are a people of the past? We start here." ELLE
"Miranda locates Native women's voices in the archives, exhuming them from anthropological documents and newspapers so their words can accompany hers in this robust rejection of dominant narratives of Native absence. . . . At times playful, at other times tender, Bad Indians is a powerful read." Book Riot
"This multi-genre memoir uses archives in all senses of the word, as well as imaginative writing, to render a prismatic and complex story about her own family and the history of colonization in California from the Spanish missions of the 1700s to present." Mental Floss
"Miranda's research into her family history, Indigenous Californians, is the grounding cable for her to tell their collective tribal story. The book is full of photo slides, obtained through her meticulous research, as she writes to humanize the people within them; some of them her direct ancestors. Through Miranda's poetic lyricism and objective research we cannot help but feel them through the lens." Electric Literature
"Miranda's is an emotional, powerfully told story that contributes greatly to her goal of 'killing the lies' about her people." Deborah Donovan, Booklist
"For so long, Native writers and readers have opened books of our tribal history, archaeology, and anthropology and found that it is not the story we know. [...] From the voice of the silenced, the written about and not written by, this book is groundbreaking not only as literature but as history." Linda Hogan, author of A History of Kindness and The Radiant Lives of Animals
"With insight and compassion, Deborah A. Miranda has written and compiled a potent history, an engaging family story, and a memoir of extraordinary depth. Bad Indians has become a classic." Debra Magpie Earling, author of Perma Red and The Lost Journals of Sacajewea
"In its first decade, Bad Indians has inspired a generation of readers, students, and scholars with its poetic force and with its searing indictments of the discourses of Indian vanishing and the practices of Indian erasure. Perhaps more profoundly, Bad Indians has modeled a new method for writing Indigenous histories: one that fully articulates the personal within the communal and the affective within the political. Just imagine what this book, its beauty, and its provocations will accomplish in the decades to come." Chadwick Allen, author of Earthworks Rising: Mound Building in Native Literature and Arts
"No other history of California's Indigenous communities that I know of presents such a moving, personal account of loss and survival." Frederick E. Hoxie, professor emeritus at University of Illinois, Urbana-Champaign
"For anyone and everyone who likes to listen to and tell stories and who believes in the liberating power of story." Jonah Raskin, Anderson Valley Advertiser
"There are simply not enough superlatives to describe Deborah Miranda's stunning memoir, a memoir that deftly and movingly weaves the historical with the personal. In passionate prose, Deborah writes the true story behind the white-washed history of California's revered Missions whose enslavement, degradation and genocide of California coastal Indigenous tribes was covered up for centuries. [...] This beautifully-wrought memoir should be mandatory as a text in every American history class." Pamela Uschuk, author of Crazy Love and Refugee
+ Show all reviews
Disclosure of Material Connection: Some of the links in the page above are "affiliate links." This means if you click on the link and purchase the item, I will receive an affiliate commission. I am disclosing this in accordance with the Federal Trade Commission's
16 CFR, Part 255
: "Guides Concerning the Use of Endorsements and Testimonials in Advertising."