A Salad Only the Devil Would Eat: The Joys of Ugly Nature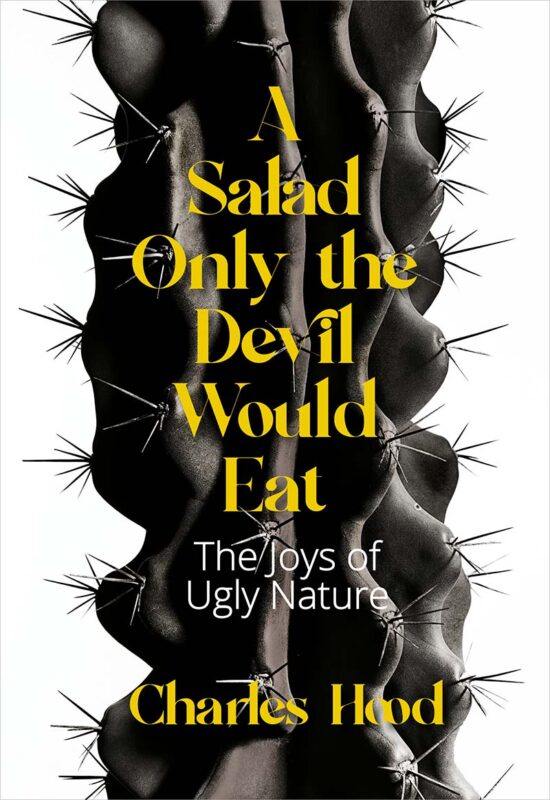 Paperback, 5.5 x 8, 224 pages.
ISBN: 9781597145459.
By
Winner of Foreword INDIES Editor's Choice Prize
Silver Medal Winner of Pub West's Book Design Award
In these wry and explosively funny essays, nature obsessive Charles Hood reveals his abiding affection for the overlooked and undervalued parts of the natural world. Like a Bill Bryson of the Mojave exurbs, Hood takes us on a joyride through the obscure, finding wilderness in Hollywood palms, the airports of Alaska, and the empty lots of Palmdale. In a zinger-filled whirl of literary and artistic allusions, he celebrates Audubon's droopy condor, the world-changing history of a cactus parasite, and the weird art of natural history dioramas. This debut collection of creative nonfiction from a widely published poet, photographer, and wildlife guide unveils the wonderment of nature's underbelly with poetic vision and singular wit.
Reviews
"Among nature writers now working, Charles Hood may be my favorite. He never stops telling stories, and his perspective is fundamentally comic, even when he's recounting a tragedy." Jonathan Franzen
"What makes this collection such a consistent joy is ultimately how hopeful the author feels, and how much he continues to enjoy moving through the world despite the twin realities of bad knees and climate change. [...] Reading Hood's work will make you feel smarter but, even more crucially in this dire age, more open to the sublime. [...] Read this book. It's a true delight." Los Angeles Times
"[An] eccentric collection of Earth's oddities [...] green-minded readers will appreciate the author's ability to find meaning in nature's quirky side." Publishers Weekly
"A book that celebrates the delights of amateurism, the facts that you stumble upon when you're reading for something else, or the rare bird you happen to notice when you're out on a whale watch." The Millions
"With a poet's sensitivity, Hood shows himself to be as in love with words as with what he sees around him [...] his essays will charm, delight, and bring attention into high gear so that even a walk through an empty city lot will reveal treasures for the mind and heart." Foreword Reviews
"Once you've had a taste of the world of Charles Hood, you'll want to follow him wherever he goes. He's brilliantly entertaining and this is his best book yet." Elizabeth McKenzie, author of The Portable Veblen
"Hood is the love child of Rebecca Solnit and Edward Abbey, assuming such a child had been raised in an art colony by demented garden gnomes." Michael Guista, author of Brain Work, winner of the Bakeless Prize for Literature
"Charles Hood's essay about James Audubon's work should be required for anyone who possesses a pair of eyes, whether or not they use them for birdwatching or perusing art." William Fox, Director of The Center for Land + Environment, Nevada Museum of Art
+ Show all reviews
Disclosure of Material Connection: Some of the links in the page above are "affiliate links." This means if you click on the link and purchase the item, I will receive an affiliate commission. I am disclosing this in accordance with the Federal Trade Commission's
16 CFR, Part 255
: "Guides Concerning the Use of Endorsements and Testimonials in Advertising."