Bad Indians: A Tribal Memoir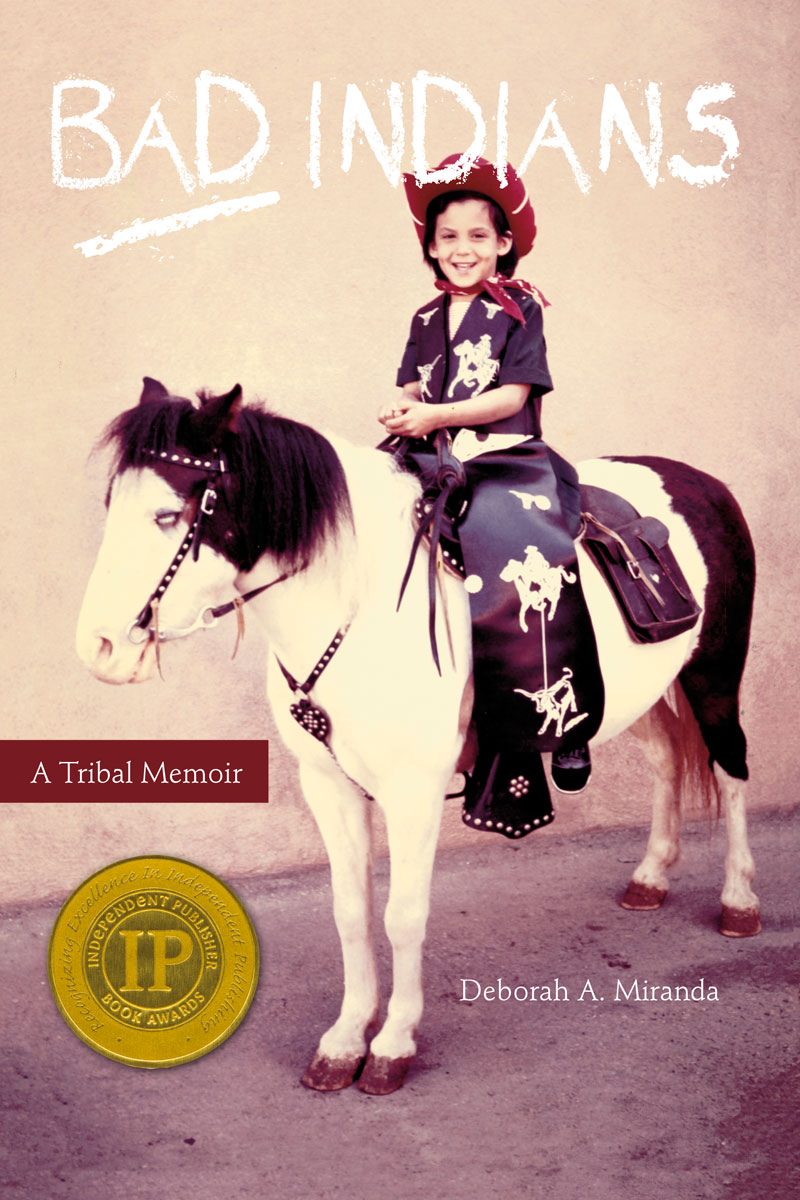 Paperback, 6 x 9, with over 25 illustrations, photographs, and maps, 240 pages.
ISBN: 9781597142014.
By
Winner of the PEN Oakland–Josephine Miles Literary Award
Winner of the 2014 Independent Publisher Book Award, Gold Medal for Autobiography/Memoir
Shortlisted for the 2014 William Saroyan International Prize for Writing
"If we allow the pieces of our culture to lie scattered in the dust of history, trampled on by racism and grief, then yes, we are irreparably damaged. But if we pick up the pieces and use them in new ways that honor their integrity, their colors, textures, stories—then we do those pieces justice, no matter how sharp they are, no matter how much handling them slices our fingers and makes us bleed."
This beautiful and devastating book—part tribal history, part lyric and intimate memoir—should be required reading for anyone seeking to learn about California Indian history, past and present. Deborah A. Miranda tells stories of her Ohlone Costanoan Esselen family as well as the experience of California Indians as a whole through oral histories, newspaper clippings, anthropological recordings, personal reflections, and poems. The result is a work of literary art that is wise, angry, and playful all at once, a compilation that will break your heart and teach you to see the world anew.
In 2022, Heyday released a 10th Anniversary Edition of Bad Indians. See it here. 
Reviews
''Essential for all of us who were taught in school that the 'Mission Indians' no longer existed in California, Bad Indians combines tribal and family histories, tape recordings, and the writings of a white ethnologist who spoke with Miranda's family, together with photographs, old reports from the mission priests to their bishops, and newspaper articles concerning Indians from the nearby white settlements. Miranda takes us on a journey to locate herself by way of the stories of her ancestors and others who come alive through her writing. It's such a fine book that a few words can't do it justice.'' Leslie Marmon Silko, author of Ceremony and The Turquoise Ledge
"In Bad Indians: A Tribal Memoir, we learn about the Indigenous people of California from the 16th century to the present. What was and is day-to-day life for them? How much has been erased from our history books? How do we begin to dispel the myth that Native Americans are a people of the past? We start here." Brea Baker, ELLE magazine
"Miranda's research into her family history, indigenous Californians, is the grounding cable for her to tell their collective tribal story. The book is full of photo slides, obtained through her meticulous research, as she writes to humanize the people within them; some of them her direct ancestors. Through Miranda's poetic lyricism and objective research we cannot help but feel them through the lens." Marlena Gates, Electric Lit
"This multi-genre memoir uses archives in all senses of the word, as well as imaginative writing, to render a prismatic and complex story about [Miranda's] own family and the history of colonization in California from the Spanish missions of the 1700s to present." Sarah Neilson, Mental Floss
"A desperately needed correction to centuries of fantasy and whitewashing. [...] Miranda's dialogic kit is rich and deep, and it uses archival aesthetics to create a story that is as full of information and lacunae as California history itself. Accepting that some parts of her family's past will never be retrievable gives Miranda the chance to allow readers to appreciate how much was destroyed in the history of contact between California's Native tribes and the Mexican and European settlers who came to establish the mission system." John Freeman
"For anyone and everyone who likes to listen to and tell stories and who believes in the liberating power of story." Jonah Raskin, Anderson Valley Advertiser
''For so long, Native writers and readers have opened books of our tribal history, archaeology, or anthropology and found that it is not the story we know. It does not include the people we know. It does not tell the stories of the heart or the relationships that were, and are, significant in any time. When we write our own books, they do not fit the 'record,' as created by and confirmed by outside views. From the voice of the silenced, the written about and not written by, this book is groundbreaking not only as literature but as history.'' Linda Hogan, author of Rounding the Human Corners and a faculty member for the Indigenous Education Institute
''Bad Indians brings the human story of California's indigenous community sharply into focus. It's a narrative long obscured and distorted by celebrations of Christian missionaries and phony stories about civilization coming to a golden land. No other history of California's indigenous communities that I know of presents such a moving, personal account of loss and survival.'' Frederick E. Hoxie, Swanlund Professor, University of Illinois, Urbana-Champaign
+ Show all reviews
Disclosure of Material Connection: Some of the links in the page above are "affiliate links." This means if you click on the link and purchase the item, I will receive an affiliate commission. I am disclosing this in accordance with the Federal Trade Commission's
16 CFR, Part 255
: "Guides Concerning the Use of Endorsements and Testimonials in Advertising."